Description
ROCKY MOUNTAIN GRAIN PRODUCTS, The inventor of Original Hemp Hearts (TM) NOW offers:
Eighteen choices of SATISFYING hi-protein desserts.
Each is 2oz (55g) of reduced fat Hemp Hearts Protein Flakes(TM), bonded with 1oz (25g) dark chocolate, topped with one choice of nut or dried fruit & maple syrup spray.
For perfect taste, lift one corner of lid and heat in microwave for 50 seconds. Serve with ice cream or yogurt.
Because base has 2oz (30g) protein, each dessert will satisfy for 4 + hours…
Some customers use two per day with ice cream or yogurt to lose weight… calling them WEIGHT LOSS DESSERTS.
They notice that the protein provides the tissue health benefits.
Square Meal Desserts are perfect for losing weight, even while restoring health to body tissues, because each "Dessert" contains the protein equivalent to two quarts of mother's milk… enough protein to satisfy most people for over eight hours.
No one needs to eat more than two "Desserts" per day for continuous satisfaction… totalling only about 1,000 calories for both meals… so it is easy to lose weight without hunger.
Those who follow "two Square Meal Dessert program" will usually discover that:
their doctors will reduce or eliminate medication for type II diabetes
that circulation will return to diabetic feet
that inflammatory pain will disappear
that blood pressure will return to normal
that their hair, nails and skin will exhibit amazing elasticity
that they will experience perfect digestive health
that virtually all body functions will become more youthful
and that is is easy to lose and control weight
18 Toppings:
Apricot, Strawberry, Blueberry, Cranberry, Cherry, Date, Prune, Papaya,Pineapple, Fig,
Walnut, Almond, Hazelnut, Pecan, Cashew, Brazil Nut, Macadamia, Nut, Coconut.
You can request custom selection of toppings. If not specified, we send one of each.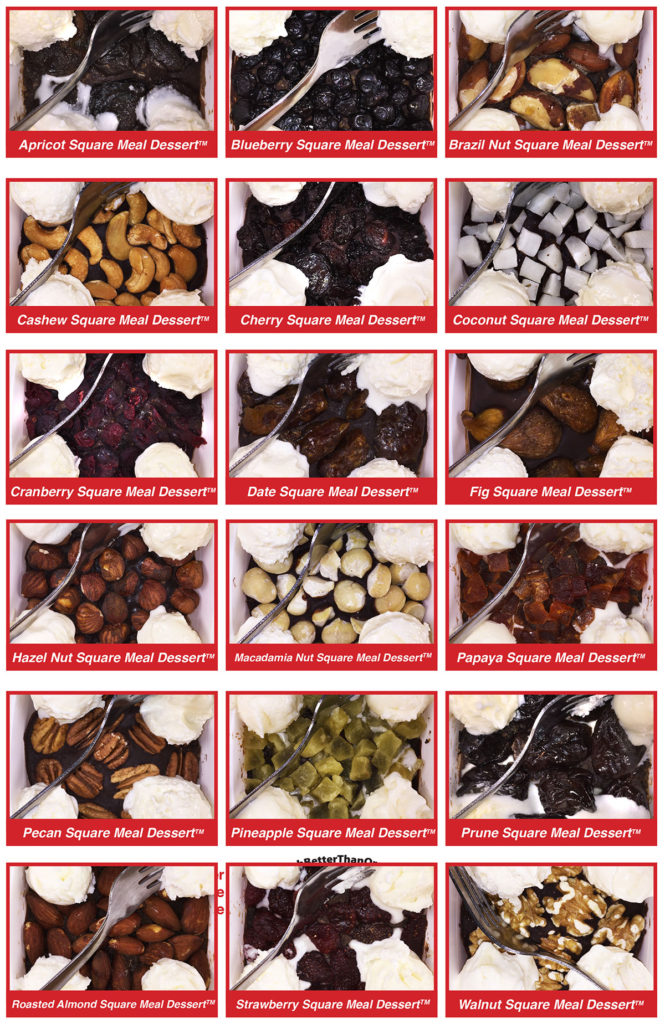 Allergy warning: Hemp Hearts Protein FlakesTM may contain tiny amounts of other grains; our chocolate contains some dairy, sugar, vanilla and soy emulsifier; our nuts, fruit & maple syrup are typical bulk store items.